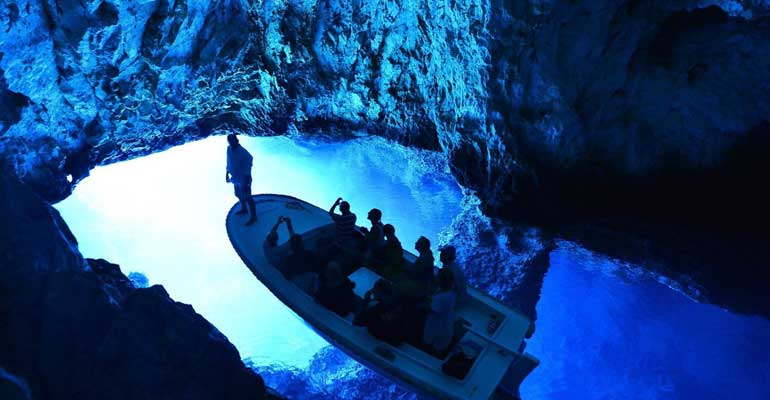 For our Blue Cave tour it is not necessary to spend a lot of words, we both know that she took the title of HOT TOUR a long time ago.
… But we will still do our best to give you some details which is good to know.
If you get up early in the morning and decide to spend your day with us, it will certainly be a good decision because you will have an exciting long drive to Bisevo, the island where the Blue Cave is located.
To fully experience the jewel of the Adriatic you need to enter in the hours when the sun is at its peak to experience the blueness that everyone is talking about.
The story of the most beautiful points of the Adriatic does not end there, but continues with Stiniva, an interesting bay that has been declared the most beautiful in Europe.
Take some swim time, explore the seabed and you will see why it is a leader in beauty.
Since you are in Dalmatia and any time for swimming is worth it, there's time for the stunning Green Cave on Ravnik Island.
When the sun is high, light enters the grotto though a large opening at the top of the cave which creates a dazzling array of silver and green colors.
You can also use your time for lunch and rest in the magical dalmatian place Komiža – the pearl of the island, then enjoy in one more swimming stop by skipper's choice.
Walk along one of the most beautiful promenades in city of Hvar and take some coffee shot on the waterfront.
As in every our tour, you will not miss to visit the inevitable Military Tunnel, a place you simply must experience.
Given that the Blue Cave Experience tour depends on weather conditions, in case of unexpected closure of Blue Cave and impossibility of visit due to the predicted wind or sudden change of weather, we undertake to offer an alternative destination on this tour instead of Blue Cave.
Besides the camera here are few items you may need to enjoy your time during excursion: bathing suites, towel, sunglasses, sun cream, warm sweater, hat, additional clothes to change.
Tour is a subject to favorable weather conditions. In case of unsuitable weather conditions, we deserve the right to cancel the tour as the safety of our guests is our primary concern. Our guests will be given the option of an alternative date (depending on availability) or full refund.