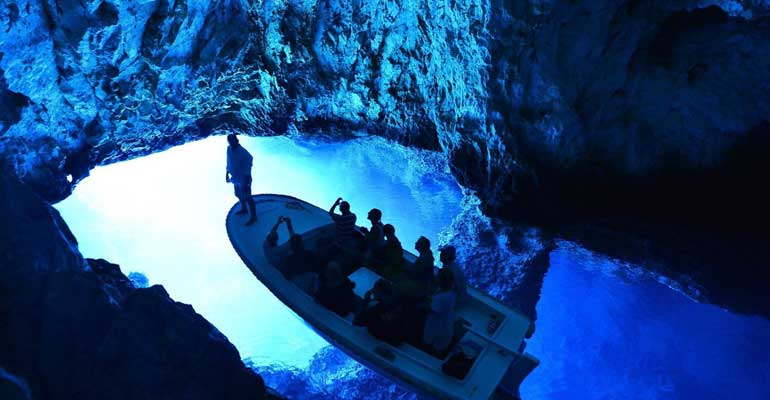 After picking you up at Bol harbour, you willl step aboard our speedboat for a thrilling 90 minute ride to Bisevo Island, and its marvelous Blue Cave. In order to appreciate its ethereal beauty, we'll arrive exactly at the time of the day when the sunlight reflected through the sea floor bathes the entire cave in aquamarine light, while objects in the water are turned into shimmering silver. Then we slice through the Adriatic to explore Komiza, a picture-perfect, authentic fishermans village on the island of Vis.
After visiting Komiza we'll cruise around to the southern side of the island to stop in the unique Stiniva bay and take a swim in the stunning Green Cave on Ravnik Island. When the sun is high, light enters the grotto though a large opening at the top of the cave which creates a dazzling array of silver and green colors. The cave is very spacious and the sea depth is 3 to 5 meters so our boat can get in easily. Afterwards, we go to Budikovac lagoon, where the wonderful pebble beach and small protected bay provide a perfect spot for a light lunch and time to rest while enjoying in swimming and snorkeling.
Our final destination is the town of Hvar, with one of the most beautiful harbors on the Adriatic, and a rich cultural heritage as well. Its seven-century old walls still survive, as well as many of the 15th-17th century Venetian era noble houses and public buildings. The easy walk around the town to discover its many charms is a delight. After enjoying Hvar town and maybe having a drink in one of famous cafes, it's time to to return to Bol on our speedboat.
Besides the camera here are few items you may need to enjoy your time during excursion: bathing suites, towel, sunglasses, sun cream, warm sweater, hat, additional clothes to change.
Tour is a subject to favorable weather conditions. In case of unsuitable weather conditions, we deserve the right to cancel the tour as the safety of our guests is our primary concern. Our guests will be given the option of an alternative date (depending on availability) or full refund.